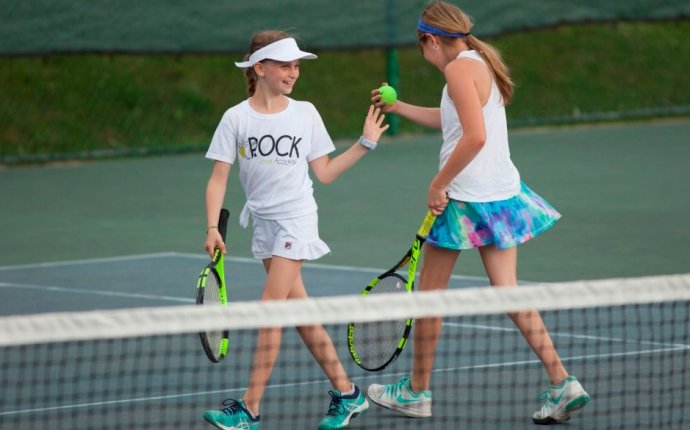 Tennis match rules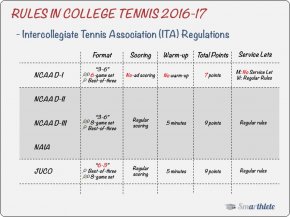 Do the exact same rules apply in college tennis compared to the ITF Junior, ATP, or WTA Tour? Find out how the college divisions differ from each other in today's Friday Scholarship Guide.
College Tennis Format
"3-6" or "6-3" stands for the order of play of the 9 matches. In all divisions but the NJCAA (Junior & Community Colleges), doubles matches are played prior to the singles matches. While singles matches are played in the usual way (Best-of-three), all doubles are limited to one set only. Note that NCAA D-I is the only division, in which a doubles set is a "regular" 6-game set!
College Tennis Scoring
College tennis is still the same sport played around the globe, which is why the USTA Rules & Regulations are in effect, unless otherwise stated for college tennis. One such exception is Division I tennis, which follows the same rules that were implemented on the ATP doubles tour some years ago: No-ad scoring
College Tennis Warm-Up
Again, the only exception is Division I, which foresees no warm-up between opponents at all. You better be ready and awake right from the start, otherwise a doubles match or the first set of a singles can run away pretty fast.
Team Total Points
6+3 matches would normally equal 9, shouldn't it? In theory yes, but in Division I only one doubles point is up for grabs. The team that wins two out of three doubles matches takes the one available doubles point. Note that there is an extra clause for Division I, stating that
"If both coaches agree, a team match may be stopped once a team reaches four points."
That's the reason you often see different results with less that 7 points in the headlines: 4-0 or 4-2 for example.
Service Lets
If you happen to play in Division I, that's one of the most surprising differences to "normal" junior tennis. In men's tennis, there is no service let - in other words: if the ball hits the net and goes into the service box the ball is in play.
You might be wondering why it is that most deviations are Division I characteristics? Well, tennis, such as any other college sport is in direct competition with other sports at college - and thus, funding. As a result, there have been continuous efforts to make the product tennis more "supporter-friendly".
Source: www.smarthlete.com