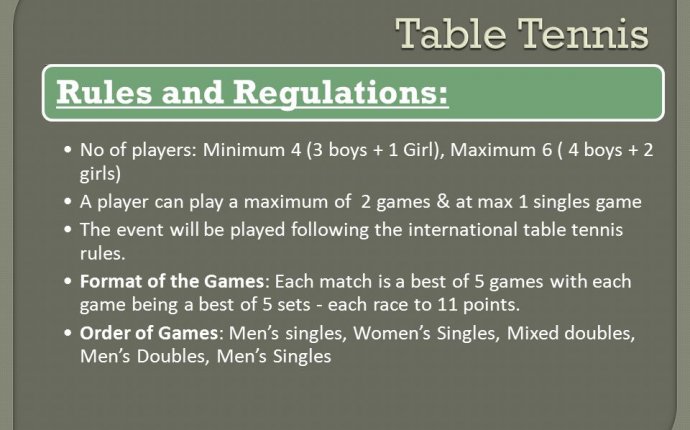 International table tennis rules
The 19th World Veteran Table Tennis Championships (WVC) will take place from 18 June 2018 - 24 June 2018 at the Las Vegas Convention Center in Las Vegas, Nevada.

ELIGIBILITY
The WVC is open to all interested players aged 40 years and over or who will reach their 40th birthday during the year the event takes place (born 1978 or earlier). This also includes participants who will reach the age of 40 during the course of the months after the event is scheduled (from June until December 2018).

EVENT CATEGORIES
The following categories will form part of the championships:
- 40 - 44 years (Born 1978 or before)
- 45 - 49 years (Born 1973 or before)
- 50 - 54 years (Born 1968 or before)
- 55 - 59 years (Born 1963 or before)
- 60 - 64 years (Born 1958 or before)
- 65 - 69 years (Born 1953 or before)
- 70 - 74 years (Born 1948 or before)
- 75 - 79 years (Born 1943 or before)
- 80 - 84 years (Born 1938 or before)
- 85 - 89 years (Born 1933 or before)
- Over 90 years (Born 1928 or before)
Each player has to participate in his own event category. Exceptions will be made for doubles pairs, where players do not belong to the same event category. In such cases, the pair will participate in the event category of the youngest player.

CHAMPIONSHIP CATEGORIES
The following competitions will be played in each category:
Women¹s and Men's singles
Women¹s and Men's doubles

PLAYING SYSTEM
Information about the playing system is to be found in the rules and regulations of the World Veterans Table Tennis Championships. In principle, the rules of the International Table Tennis Federation (ITTF) apply.

MAXIMUM NUMBER OF PARTICIPANTS
A maximum number of 5, 000 players will be allowed to participate in the WVC 2018 to be held in Las Vegas, NV. Registration of players will only take place upon receipt of the full entry fee payment. Adjudication of entry place will be handled on a first come, first served basis. Registrations received above this number will be put on a waiting list, by order of date of entry received. Vacancies will be filled with names from the waiting list; those moving up will receive an invoice and the entry fee is due immediately. The amount of the entry fee is determined by the date registration is received.

ACCREDITATION
Accreditation for participants and their accompanying persons takes place at multiple locations. More information will be available after January 1, 2018.
Each participant has to come to accreditation at least 1 hour before their age group starts to confirm his/her sports entry and to collect his/her tournament documents. When collecting the tournament documents the participant has to provide his/her confirmation of participation containing the individual personal registration number. All participants who have not received their accreditation according to above mentioned time table will be cancelled and cannot play in the tournament.
Players who have registered through a group will receive their accreditation only through the group leader, not individually.
The accreditation of accompanying persons only takes place together with the accreditation of the participant entered for the tournament.
All players are requested to come to the accreditation centre as early as possible.

ILLNESS / ACCIDENT
To compete, participating players of the 2018 WVC are responsible for their physical and mental fitness. It is recommended that a routine check-up ahead of the WVC should be carried out by a doctor.
The Organizing Committee does not provide health insurance for participants. Any costs for medication, bandages or other medical services will not be born by the Organizing Committee. First aid/medical duty personnel will be available at the LVCC during the competition.

LIABILITY / INSURANCE
The Organizing Committee cannot accept liability in case of accidents, injuries, thefts or damages of any kind.
The Organizing Committee does not provide health insurance for participants. Each participant has to take care for his/her health insurance and to bear the relevant costs.
Costs incurred by foreign participants for late departure or non­departure from Las Vegas due to illness will be at each participant's expense. The Organizing Committee shall not be liable in this respect and will carry no insurance to cover events as such.
Source: wvc2018.com